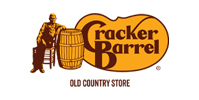 CB Old Country Store™ Spiral Ham Available in Grocery Stores - Bacon Glazed Ham Recipe for your Holiday Meal
December 12, 2014
(Lebanon, Tenn., Dec. 12, 2014)--Just in time for the holiday season, CB Old Country Store™ Spiral Ham is now available for purchase in grocery stores across the country. This popular holiday meal staple is the perfect main course offering for any gathering of family and friends.
"The CB Old Country Store™ spiral ham is a very popular main course item and we are excited to provide this product to consumers in time for the upcoming holidays," said Ed Greene, Senior Vice President of Strategic Initiatives for Cracker Barrel Old Country Store, Inc. "We pride ourselves on providing the best quality food for individuals and families, and we hope that everyone can enjoy a meal featuring our spiral ham this holiday season."
There are many great ways to cook the CB Old Country Store™ spiral ham including this easy to prepare Bacon Glazed Ham recipe:
INGREDIENTS
CB Old Country Store™ spiral cut, bone-in half ham (7-10 pounds)
½ Cup of apple jelly
2 Tablespoons of honey
1 Tablespoon of Dijon mustard
1 Tablespoon of stoneground mustard,
8 Slices of CB Old Country Store™ Harwood Smoked Bacon (uncooked)
DIRECTIONS
Heat oven to 325°F. Place ham cut side down in a foil-lined shallow baking pan. Bake on the lowest oven rack for 10 minutes per pound. While the ham is baking, cook the bacon in a skillet and set aside. Discard grease from pan, keeping any loose bacon bits in the pan for deglazing.
Place pan on medium heat and add apple jelly. Whisk in honey and mustards, scraping the bottom of the pan to remove all the bacon bits. Remove from heat; let stand. When the ham has 30 minutes left to cook, remove from oven and pour off any liquid from pan. Cut bacon into small pieces and stir into cooled glaze. Spread the glaze over top and sides of the ham and put it back in the oven to finish baking until the glaze is a deep golden brown. Spoon any remaining glaze from pan over ham before serving.
"Not only is our spiral ham sure to impress guests sitting around the holiday table this season, but it will also provide immediate savings," Greene said. "Each CB Old Country Store™ spiral ham comes with a $2.00 off coupon attached that can be used at the register upon purchase."
For more information on CB Old Country Store™ Spiral Hams and other products, please visit www.cboldcountrystore.com.
About Cracker Barrel Old Country Store, Inc.
Cracker Barrel Old Country Store, Inc. provides a friendly home-away-from home in its old country stores and restaurants. Guests are cared for like family while relaxing and enjoying real home-style food and shopping that's surprisingly unique, genuinely fun and reminiscent of America's country heritage…all at a fair price. Cracker Barrel Old Country Store, Inc. (NASDAQ: CBRL) was established in 1969 in Lebanon, Tennessee and operates 634 company-owned locations in 42 states. For more information, visitcrackerbarrel.com
DISCLAIMER:
Neither Cracker Barrel Old Country Store, Inc. nor CB OLD COUNTRY STORE products are affiliated with Kraft or Kraft's CRACKER BARREL cheese.
Media Contact:
Cracker Barrel Media Relations
615-235-4135