Cracker Barrel Old Country Store® and Country Living Announce Exclusive Collection
12/11/2018
Special line of home goods and apparel available nationwide and online December 20, 2018
Cracker Barrel Old Country Store® and Country Living magazine today announced the launch of a licensed home goods and apparel collection, available exclusively at Cracker Barrel locations nationwide and online at shop.crackerbarrel.com. Starting December 20, the line of products will be available at all Cracker Barrel locations, just in time for last-minute holiday shopping and to kick off the new year.
The collection, inspired by the timeless aesthetic of Country Living magazine and the authentic memorabilia lining the walls of each Cracker Barrel store, features unique products including rustic home décor, kitchenware, exclusive apparel and accessories and toys for pets. The collection, which includes more than 80 items, has a modern farmhouse feel.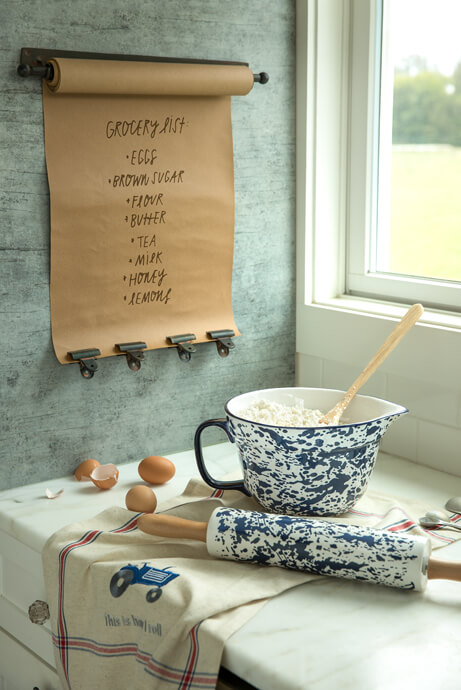 "The Cracker Barrel and Country Living brands are rooted in creating inviting and comfortable environments that focus on family and friends," said Laura Daily, senior vice president of retail for Cracker Barrel. "Together we have designed an assortment that we hope our guests and Country Living readers find to be a timeless and beautiful addition to any home."
"Cracker Barrel is the leading embodiment of Americana country charm as a restaurant and retail destination and there is no better pairing for a full-range of uniquely-themed gifts and collectibles than Country Living, with its legions of loyal like-minded readers and deeply passionate fans and followers," said Steve Ross, Global Chief Licensing Office & Head of Brand Development, Hearst magazines. "This exciting new licensing partnership will manifest in a branded consumer product experience that is certain to surprise and delight holiday shoppers of all ages."
"We're so excited to collaborate with the talented team at Cracker Barrel and to bring Country Living to life in readers' homes," said Rachel Hardage Barrett, Country Living editor-in-chief. "Our brands are such a natural fit, and I know I'll be the first in line for the charming checkers set featuring mason jar lids, as well as the on-trend splatterware, cross-stitch pillows, and enamel bread bin."
The collection, created and designed by Cracker Barrel and Country Living, features items that appeal to every guest and ranges in price from $0.99 - $149.99. More information is available online at shop.crackerbarrel.com.
About Cracker Barrel Old Country Store, Inc.
Cracker Barrel Old Country Store, Inc. (Nasdaq: CBRL) shares warm welcomes and friendly service while offering guests quality homestyle food and unique shopping – all at a fair price. By creating a world filled with hospitality and charm through an experience that combines dining and shopping, guests are cared for like family. Established in 1969 in Lebanon, Tenn., Cracker Barrel and its affiliates operate 657 company-owned Cracker Barrel Old Country Store® locations in 45 states and own the fast-casual Holler and Dash® restaurants. For more information about the company, visit crackerbarrel.com.
About Country Living
Country Living is a shelter-lifestyle magazine focusing on a variety of topics including decorating, antiques, cooking, travel, remodeling and gardening. In addition to its U.S. flagship, Country Living publishes a United Kingdom edition. Country Living is published by Hearst Magazines, a unit of Hearst, a leading global, diversified media, information and services company with more than 360 businesses. Hearst attracts more readers of monthly magazines than any other publisher. Hearst Magazines' print and digital assets reach 139 million readers and site visitors each month–more than two-thirds of all women and nearly three-quarters of millennial women in the country (source: 2017 comScore Multi-Platform/MRI 01-18/F17). With 25 titles in the U.S, the company publishes close to 300 editions and 200 websites around the world. Follow Country Living on Twitter, Facebook, Pinterest and Instagram. Country Living's editorial offices are located in Birmingham, Alabama.
MEDIA CONTACTS:
Cracker Barrel: Heidi Pearce, media.relations@crackerbarrel.com, 615-235-4135
Country Living: Kaitie Ames, kames@hearst.com, 212-649-2180