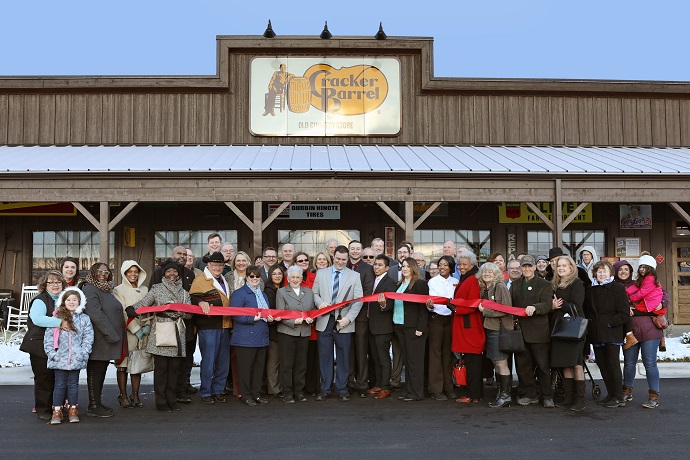 Store creates approximately 175 jobs; Jonathon Thrasher named general manager

LEBANON, Tenn. (Feb. 24, 2020) – Cracker Barrel Old Country Store® is proud to announce its newest location near Winston-Salem, North Carolina. Starting Monday, Feb. 24, Cracker Barrel will open its doors to families in the area, who will experience a restaurant that combines dining and shopping as a seamless experience in a relaxing, comfortable environment. Cracker Barrel will share its popular homestyle Southern cooking and range of quality retail offerings with local families and travelers.

Cracker Barrel's 41st store in North Carolina is part of its plan to deliver the unique experience that has made the brand so beloved across the country to new guests. Cracker Barrel's new store has created approximately 175 full- and part-time jobs that will help bring the Cracker Barrel dining and shopping experience to the Winston-Salem community.

"We are delighted to bring another location to the wonderful state of North Carolina," said General Manager Jonathon Thrasher. "My team and I are eager to provide the community with a home-away-from-home environment where they can enjoy some homestyle food while spending quality time together."

At Cracker Barrel, breakfast is available all day with lunch and dinner options beginning at 11 a.m. Cracker Barrel serves homestyle meals prepared from scratch like homemade chicken n' dumplins, as well as its Wholesome Fixin's® meals, which are full-flavored options freshly prepared with a lighter twist on guest-favorite dishes. Each Cracker Barrel location is decorated with authentic artifacts, memorabilia and signage collected by a team of Americana experts. North Carolina's newest Cracker Barrel store celebrates the history and culture of the local area through decorative walls that pay homage to the area's tobacco and textiles industries.

The store will be open Sunday through Thursday, 6 a.m. to 10 p.m. and Friday and Saturday, 6 a.m. to 11 p.m.

To keep up with the latest news on the store, visit the Cracker Barrel Winston-Salem Facebook page at https://www.facebook.com/crackerbarrel.winstonsalem/.
###

About Cracker Barrel Old Country Store, Inc.
Cracker Barrel Old Country Store, Inc. (Nasdaq: CBRL) shares warm welcomes and friendly service while offering guests quality homestyle food and unique shopping – all at a fair price. By creating a world filled with hospitality and charm through an experience that combines dining and shopping, guests are cared for like family. Established in 1969 in Lebanon, Tenn. Cracker Barrel and its affiliates operate 664 company-owned Cracker Barrel Old Country Store® locations in 45 states and own the breakfast and lunch focused fast-casual Maple Street Biscuit Company® restaurants. For more information about the company, visit crackerbarrel.com.